If you need to burn an ISO to a CD or DVD in Windows 11 you will be able to see that the steps that we will indicate to carry out this procedure are simple, in addition, it is not necessary to install any type of application because the operating system allows you to burn this file natively.
Therefore, it is enough to use the utility offered by Windows 11 to burn an ISO quickly. This is something that could already be done from Windows 10, so it is not new, and this allows the user not to have to install any other type of additional software on their PC.
You just need to have at hand the ISO you want to burn, the CD in question where you want to burn it and a CD drive on your laptop or tower computer, although if you don't have one there is no problem because you can always buy portable CD drives .
Another option is to burn the ISO on a USB, whose main advantage is that you can delete the files later and use the USB to save your files or burn another type of ISO, the CD or DVD does not offer that possibility unless they are rewritable.
In any case, we will now deal with the steps that you must follow if you are going to burn the ISO to a DVD or CD, which can be the Windows 11 ISO, this is what you have to do:
Locate the ISO you are going to burn, right click on it and click on "show more options" .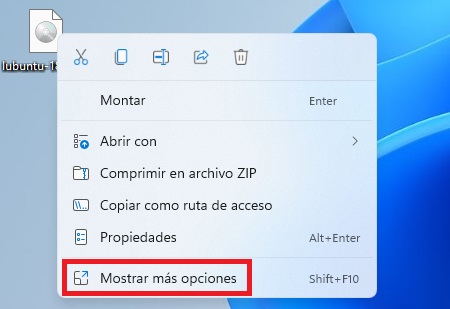 Then go to "burn disc image" .
Finally, select the drive where the empty disk is and to which you want to record and check the "check disk after recording" box. When you have everything, just click on the "record" button and the ISO image will begin to be recorded, keep in mind that it may take several minutes depending on the size of the ISO, so you must have some patience because the process takes time.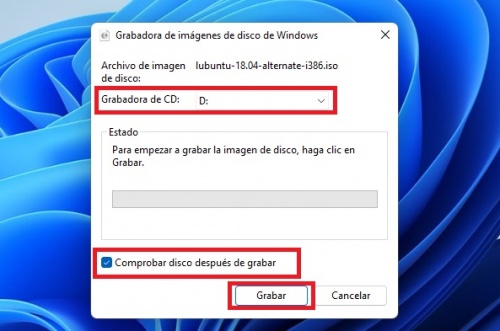 With the ImgBurn utility
ImgBurn is a free utility that also offers, among other tasks, the possibility of burning any ISO image of your PC on a CD or DVD. It is compatible with Windows 11 and you can download it from the following link:
Download ImgBurn for Windows 11

Next, proceed with the installation and once opened, follow these steps:
Click on the "write image file to disc" option .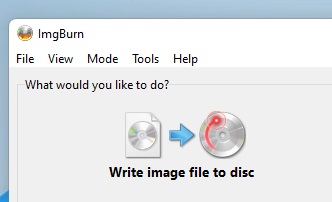 Now add the ISO image from where it says "source" , find it by clicking on the yellow folder icon.

Finally, insert the CD into the drive and select the drive below the "destination" option . All that remains is for you to click on record and wait for the process to finish.

As you can see, you can burn an ISO in Windows 11 from the operating system itself without installing anything, although you can also use applications like ImgBurn or similar since it is not the only one, but with the option that Windows 11 has, it is more than enough.