Windows 11 Insider Preview Build 22581 is here, a new test version of the operating system that comes with some small novelties and improvements in the start menu, certain internal aspects and others, a version that you can now download whenever you want to test it.
These Insider Preview preview the improvements and new features that will soon arrive in the stable version of Windows 11, making it a version in beta and ideal for all those who want to try everything that goes before anyone else, including the operating system.
If you want to test it, you'd better install this version in a virtual machine and don't use it as the main version to work with because it may show bugs and have unstable operation at some point, although these issues should be low.
One of the main novelties is the optimization of the Windows 11 taskbar for tablets , so that they are now better displayed when we put the tablet vertically, making the taskbar larger and more readable than before.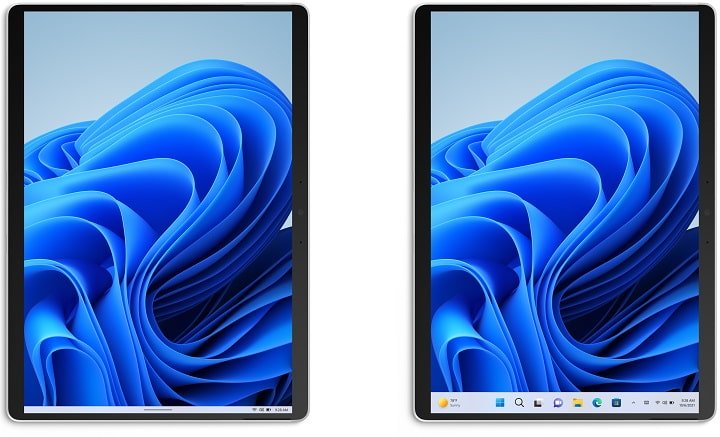 What's new in Windows 11 Insider Preview Build 22581
Beyond that novelty, what Windows 11 Insider Preview Build 22581 offers are basically functional improvements and corrections of detected errors, although now we leave you a list of other minor novelties that you should know about:
Goodbye to links in configuration: in the previous Build there was a series of links in the Windows Configuration to help the user with tips to give a second life to a PC or even recycle it, the novelty is that these links disappear for now.
Modification of the context menu option of pinned apps: when you right-click on a pinned app, one of the context menu options is modified to make it clearer, it goes from "move to front" to "move to top".
New icon in folders with directories: from now on, Windows 11 will modify the design of all those folders that only contain other folders, making a piece of paper appear to indicate that it is not empty, but that it has other folders.
Apart from these small new features or additions, everything else is bug fixes or some improvement to some function of Windows 11.
Improvements and fixes in Windows 11 Insider Preview Build 22581
We are going to see a list of those improvements and bug fixes that Windows 11 Insider Preview Build 22581 already includes , some of them are the following:
Fixed a bug that caused the previews in the taskbar to not have the correct font.
Fixed another bug with hidden taskbars where drag and drop doesn't work.
Fixed a bug with the search box inside the start menu, which used to flicker on occasion.
Updated the Clock app to fix an issue with user-scheduled focus sessions where the clock itself would not update the states of those sessions.
Fixed an issue with Windows Explorer that could cause it to crash when using the "group by" option.
Fixed various bugs related to the on-screen touch keyboard.
Improved display of the Bluetooth battery icon within Quick Settings.
Fixed various bugs related to snapshots, touch gestures, and Windows 11 windows.
Narrator is updated and will no longer read links and buttons that can be found in the middle of text in Microsoft Edge when in scan mode.
Fixed a bug in Task Manager where the details in the Status column from the "Startup Applications" tab were not displayed.
Fixed another bug in the floating control to level the sound volume of the system when using any key, causing it to be blocked.
Fixed another bug in the explorer.exe application that could cause it to not start properly and crash.
It is already possible to download Windows 11 Insider Preview Build 22581 , remember that it is a preliminary version whose news, improvements and bug fixes will arrive later in the stable version of the operating system, which will probably appear soon.
Download Windows 11 Insider Preview Build 22581