A future update of WhatsApp for Android will change the procedure for playing audio , in such a way that it represents a significant change in this functionality when you want to listen to a voice note, although the truth is that we already knew something.
What is happening now is that we have the first images of the novelty working in WhatsApp for Android since a few months ago we knew of the existence of the same functionality for the iOS operating system, that is, in WhatsApp for iOS.
According to WABetaInfo, the novelty has been seen in WhatsApp Beta for Android version 2.22.31 and the new way of playing audio means that you can listen to audio from anywhere in the WhatsApp interface without having to be in the conversation itself.
In the images you can see how when you leave the chat itself, the audio playback continues in a small bar at the top that allows you to continue listening and also stop playback if you do not want to continue listening or close it directly.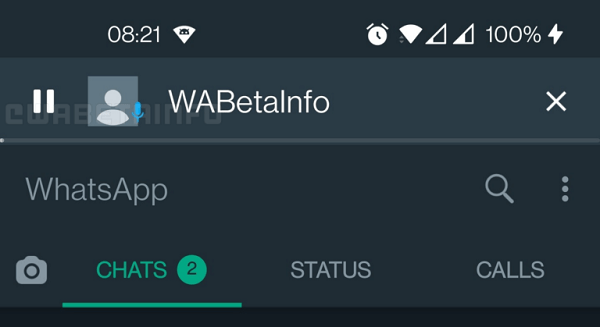 In this bar you will see who owns the recording you are listening to, the profile photo of that person and also a small blue progress bar just at the bottom that tells you what you have heard and what you have yet to hear from all audio.
This is so because a stopwatch or timer does not appear on the bar, so it is the only way to know how long you have played and when you still have to listen. It is a WhatsApp feature under development and is still in beta.
Therefore, the only ones who can test it are those who have the beta version indicated above installed and who have the functionality enabled, so it will still take some time for this novelty to reach everyone officially.
When that time comes, you will be able to update WhatsApp and obtain this novelty that will change the way you play audio , being more comfortable from now on since the app will not force you to be in the conversation, but you will be able to be in another place, a Once it arrives, it will be part of the WhatsApp news for 2022.