WhatsApp continues to work on updating its design, and we already know what the new call interface that will be launched in the future will be like. Although the elements are the same, it will look more modern and orderly on the Android and iPhone mobiles that it will arrive at.
For now the function is in development, and only leaked captures have been seen, but it seems that group voice calls will be especially favored, and they will look better ordered. In general, the elements become more compact , and a card-shaped background with rounded edges appears.
There is no release date, however, in the WhatsApp beta code the redesign is already hidden, without users being able to enable it until the company decides, not even downloading the trial version
For now we have images of the interface on iPhone (it will also come to Android), on the left we see the current design and on the right the new one: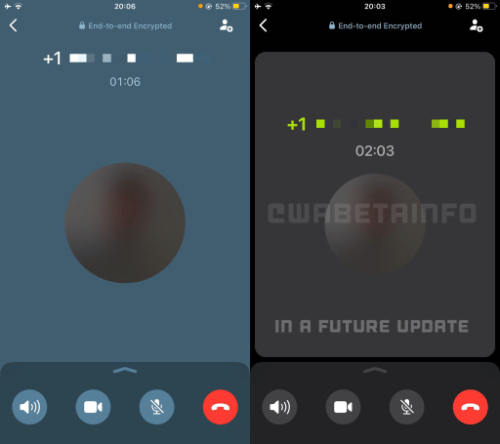 Of course, at the level of functions it does not seem that anything is going to change, and recording voice calls in WhatsApp will continue to be unsupported, which forces the use of external tools, with irregular results.
The lower buttons allow you to activate the hands-free, switch to a video call, mute the mobile microphone and hang up, from the top right it is possible to add more people to the call to make it in a group.
Since this feature is still in development, it could still receive modifications for the official launch, or even be canceled if it does not pass internal tests. There are many WhatsApp news planned for 2022, and this visual retouch is one of the least remarkable.
In any case, the new interface shows that WhatsApp continues to improve calls and polish the small details of the application, since the visual aspect is also important.
Via: WABetaInfo