In a short time, WhatsApp will improve the way it shows notifications when they respond to your messages or mention you in certain chats, a possibility that will be a reality in WhatsApp for iOS, which is where this improvement has been detected.
The improvement lies in more information from the notification itself in WhatsApp for iOS, so you can have more detailed information about where you have been mentioned or have responded and also what specific message they have sent you.
Besides, the profile photo of the person who has mentioned or responded to you also appears, this is something curious because in iOS when someone sends you a message, either through a group or individual conversation, the photo does not appear, and precisely the appearance of photos in WhatsApp notifications on iOS will be a novelty that will come soon.
According to WABetaInfo, these improved notifications in those two scenarios (responses to your messages or mentions) will only be available when they occur in a group chat , and if you think about it, it is partly logical, because it does not make sense for someone to mention you in a conversation individual in which only one person participates, in a group there are several participants and mentions and responses are common.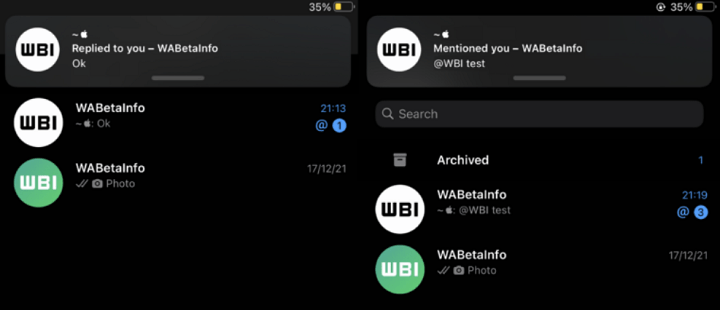 The novelty really is that, it is the appearance of more specific data in the notifications when someone from a WhatsApp group mentions or responds to any question or information that you have contributed in the conversation.
This has been seen in the beta version of WhatsApp for iOS, so it will probably not take long to reach the official and stable version of WhatsApp that is downloaded from the App Store, in any case, it will arrive via update soon.
Broadcast lists and New group change locations
Also in another version of WhatsApp beta for iOS has seen another upcoming change that predictably should not take long to arrive. It is about changing the location of the creation of broadcast lists and new groups , two options widely used by users.
Right now these two options appear in the "chats" tab of WhatsApp, together above all conversations, but a future update of the application will change their place and place them inside when you press "new chat" .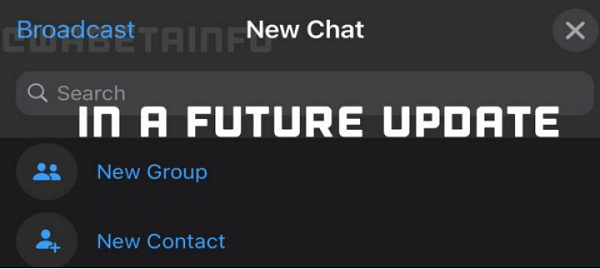 Therefore, once this change is confirmed in the interface of these options, in the "chats" section of WhatsApp for iOS, only the archived chats will appear at the top, while to create a new group or a broadcast list you will have to click on new chat.
Both the improvement in notifications when they reply to a message from you or they mention you and this change in the location of two WhatsApp options still do not have an official launch date, but as they are small improvements, they will probably take little time to arrive.