A new update to WhatsApp Desktop should soon activate link preview , a feature that was not working well in this version, although the novelty should still reach WhatsApp Web because it is the only version that does not have it.
The truth is that the functionality that shows a small preview of all those links that we receive or send in a conversation was already available in WhatsApp for Android and iOS.
It was already on WhatsApp Desktop, but it was removed due to some other technical error. Now it finally reaches this first option and it is a matter of time before it begins to be implemented, in fact, you could enjoy the novelty in an update of WhatsApp Desktop.
According to WABetaInfo, it is WhatsApp Desktop beta 2.2212.1 where the previews have already been seen working again, although it is true that it is a version of the app in the testing phase and it is not available to any user, so it will be necessary expect.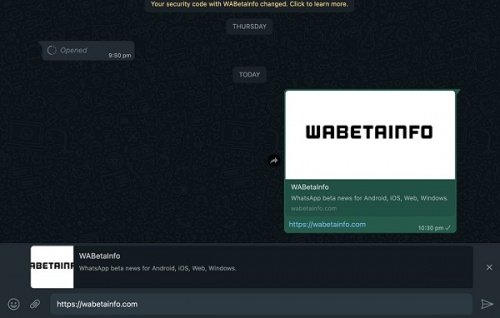 It is a matter of time before the stable version of WhatsApp Desktop is released, but when that time comes, the user must be attentive and update the application because it is not the same as WhatsApp Web, which is a web service that updates automatically.
In case you don't know what's new, the link preview offers a small sample of what you can see when you access the link , so you could see some image and even text on that link, both from those you send and from the ones you receive
The novelty will arrive soon, and surely some of the upcoming novelties that are about to reach WhatsApp Web and that have not yet made it to WhatsApp Desktop will also arrive, since both versions generally share characteristics.
The preview of the links is a useful resource that is already available in WhatsApp for iOS and Android, but not for WhatsApp Desktop , although the truth is that it has been around for a while, so it will only be available on WhatsApp Web later. .