All Vodafone customers in Spain now have the possibility of contacting customer service via WhatsApp . After a period of tests in which only the prepaid lines could do it, it reaches contract, fiber, television and all the other products of the operator.
Now the options to contact Vodafone customer service increase, but it is not clear if all queries, procedures and claims can be resolved from WhatsApp. Vodafone has enabled the number 607100100 for this new online service modality.
When writing, Vodafone Tobi will answer us, a bot that we can address in natural language . In other words, a kind of automatic text answering machine that, using artificial intelligence techniques, is capable of understanding what we ask of it and giving adequate answers.
The advantage of contacting by WhatsApp is that customer service is available 24 hours a day , 365 days a year. Logically, it is a free service, and it does not show advertising.
These are the steps to contact Vodafone through WhatsApp:
We must add the Vodafone customer service number to the agenda , which is as follows:
607100100
We can also open the chat from the link below:
Web: Contact Vodafone on WhatsApp
As soon as we enter we see the company account icon (a green "check") and a privacy notice that Vodafone manages your WhatsApp Business account together with other collaborating companies:

In the first place, we can send a simple "Hello" to the Vodafone bot, because before any reply it asks us to accept the terms of use and the privacy policy of the service: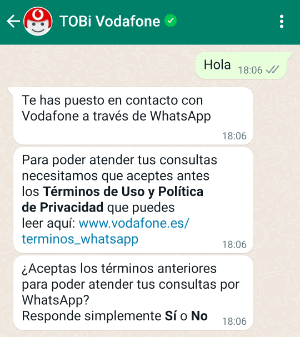 Just send a simple "Yes" to start the conversation.
Now we can write our query or request , which the Vodafone assistant will try to solve in the best possible way.
Of course, it is positive that Vodafone allows us to contact them on WhatsApp , but it is not the first Spanish operator to take its customer service to this medium. You can also contact Orange by WhatsApp, something convenient especially for quick and easy queries.