iPhone and iPad users should update to iOS 15.4.1 and iPadOS 15.4.1 as soon as possible, as they fix a very serious vulnerability that is already being used in attacks. In addition, it will prevent the excessive battery consumption that had appeared in iOS 15.4 in certain scenarios.
We are talking about a problem in AppleAVD , a system in charge of decoding audio and video, which allows writing out of the memory allocated to it. The result is that unrestricted code can be executed , putting the entire device at risk.
iOS 15.4.1 and iPadOS 15.4.1 can be classified as emergency updates because they fix what is called a "zero-day vulnerability ": the one that the attackers knew about before the manufacturer itself, and were using already in your favour.
On the other hand, the recent iOS 15.4 and iPad 15.4 were excessively draining the battery on some iPhones and iPads, something that this patch will prevent.
These are bugs fixed in iOS 15.4.1 and iPadOS 15.4.1:
Fixed a serious vulnerability in AppleAVD (CVE-2022-22675).
Fixed iOS 15.4 excessive battery consumption.
Braille displays no longer crash when displaying text or alerts,
Made for iPhone hearing devices no longer disconnect in apps.
Therefore, it is advisable to update as soon as possible so as not to fall victim to possible attacks based on AppleAVD, which we do not know how widespread they are or how they are carried out.
For now we do not know many details, something that is normal in these cases, since the manufacturers only provide all the technical information when a sufficient number of users have updated. Giving all the data from the beginning would provoke more attacks, which is exactly what it is intended to avoid.
We must access the following menu to update the system:
Settings -> General -> Software update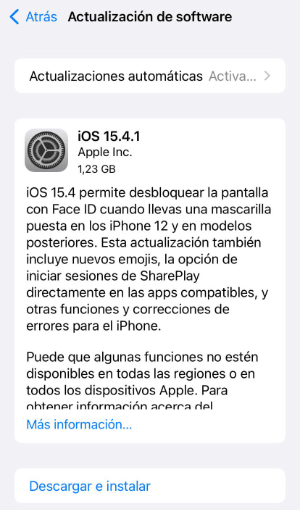 Our advice is to update to iOS 15.4.1 and iPadOS 15.4.1 as soon as possible , as always when an emergency patch is released on any platform, to keep us safe from possible threats.