Surely you have a Gmail account, or you may have several as many users. In the event that you do not want to create more email accounts that need verification, we will tell you how you can have infinite Gmail emails and have a single email account.
Google allows us to create all the accounts we want, but all of them need verification, if you want to avoid this step and not have to create more accounts you can use aliases, an alias is an email that will only serve to receive emails, but the main account inbox.
At first it seems somewhat complex, but after this article you will be able to see how to have all the email addresses you want to be able to register wherever you want without having to create other email accounts. Best of all, you'll always use the same account and the same inbox.
How to create an alias in Gmail
Before starting to see how aliases work in Gmail, we will tell you the basics, the trick to create an alias lies in the "+" symbol with this symbol we can create all the email addresses we want . Let's take an example:
If our main account is "yourmail@gmail.com", to create the alias, we will only have to write: "yourmail+xxxxx@gmail.com" being the "x" the alias that you want, in this way the emails that are written to that address will arrive in the inbox of "yourmail@gmail.com" and so you can have all the email addresses you want.
Let's take a practical example to see how to use Gmail aliases. As we have said before, Gmail email aliases are only valid for receiving emails. You should also know that it is not necessary to log in with the alias. Having seen this, let's move on to the practical example.
We will use the alias to create a Dropbox account , even if we already have our main account. In the registration window we will have to write our data and in the "email" field we will write the alias, in our case it would look like this:
When creating the Dropbox account , the verification email will reach our main Gmail account and thus we will have all the emails managed from the same email account, where we can then create filters to be able to manage the different aliases that we have created. .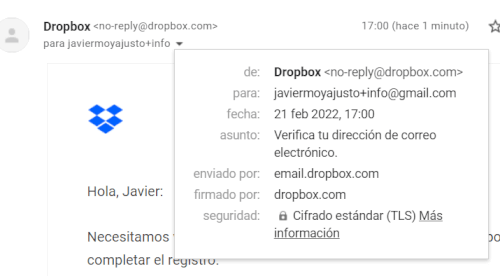 This is the trick that you can use to have infinite email accounts in Gmail with the same inbox and thus have, for example, two Dropbox accounts using the same email to have more storage. It is really useful and you will avoid having to create more email accounts.