The Stars Store, the newest on Facebook to reward influencers, is made official and begins with the Stars Fest throughout December, where they can receive badges, gifts and many other benefits, such as exclusive live broadcasts for creators and a Day of the Creator of Stars Store.
Facebook then made its online store Stars Store official, in which users can enter and use Facebook Pay to buy Stars or Stars that they can use to reward the content of their favorite creator , which is nothing more than a rewards system and whose tips will then be deposited in the virtual wallets of the rewarded creators.
The "Give Stars" button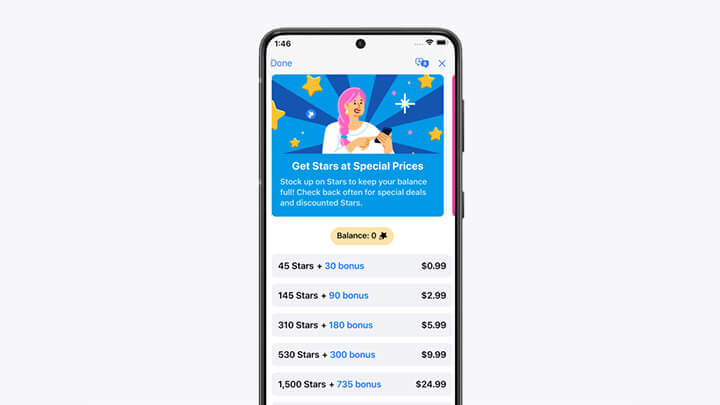 When people click on the new button "Give Stars" they will then go to an online store within Facebook to buy their Stars packages and you can currently choose between the following available alternatives:
45 Stars and 30 Bonuses for $ 0.99
145 Stars and 90 Bonuses for $ 2.99
310 Stars and 180 Bonuses for $ 5.99
530 Stars and 300 Bonuses for $ 9.99
1,500 Stars and 735 bonuses for $ 24.99
3,000 Stars and 1,465 bonuses for $ 49.99
They point out that this new store will have different offers and occasional discounts that can only be enjoyed when you enter regularly to see the balance that each user has in Stars available.
This system with a virtual wallet will allow those users who receive rewards with Stars , to in turn send them to other creators, as well as exchange it for real money, without leaving aside the social and community element that the platform intends to promote with this type of developments.
You will be able to enter the Stars Store both from the Facebook mobile application, and from the web page on your computer , after having purchased the Stars and bonus packages, you will then be able to start sharing it in each of the videos that you play and that like them to reward.
With this system of the new Stars Store, Facebook has created a system of emblems that will identify the most generous contributors of Stars , starting with one in the shape of the star itself along with the amount of the same that it has donated so far. Monthly, Facebook will show the top of the users in the tables of each creator.
With this monetization system for creators, Facebook will grant earnings with the Stars up to a maximum of $ 750 per month for selected creators.
Stars Fest now until December 31
Stars Fest runs from now until December 31 , with limited-time sales, special bonuses, and exclusive events. From December 13-19, Facebook will host a diverse selection of live streams from creators, including Roccibella, Candylover89, and John Nonny.
To encourage new and veteran fans to submit stars during Stars Fest, the stars will be on sale from December 6th to December 26th . Fans can also purchase virtual gifts for a limited time, and if they submit more than 500 stars during Stars Fest, a special badge will appear next to the sender's name.
So if you want to get noticed by your favorite content creator, then get ready to send your stars and get them gifts that will make you top the list of the Facebook Star Store and you have until December 31, 2021 to get it.