It is not news that smartwatches have been with us for many years, we still remember the first versions of those watches and the great leap that Samsung made with its Galaxy Watch 1 in which we could see one of the novelties in this type of watches, the bezel rotary to switch applications. Well, today the new Samsung Galaxy Watch 4 also has a version with a bezel and another with a digital bezel, but we will tell you all about it in this new review .
Although it is not its fourth watch since Samsung went from the first version to the third and also launching the Samsung Galaxy Watch Active in between, a more minimalist version and oriented to athletes, this year Samsung has launched two versions, the Galaxy Watch 4 Classic and the Galaxy Watch 4 , the latter will be the one we analyze.
Once we have clarified the entire family tree of Samsung smart watches, let's get down to business and see everything that the best Samsung watch to date can offer us, in addition, with one of the best news, the arrival of Wear OS to the device.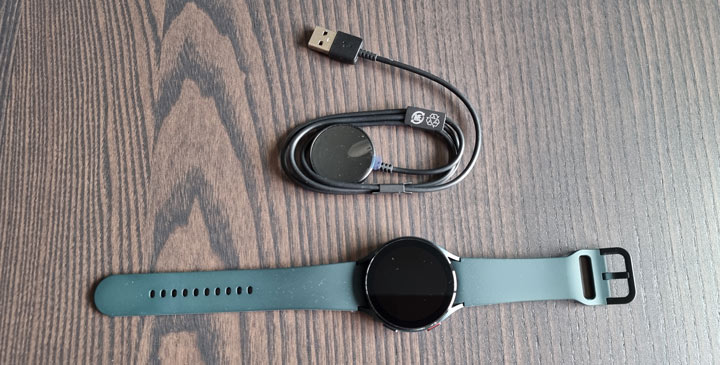 Samsung Galaxy Watch 4, technical sheet
Before seeing the tests and everything that the new Samsung watch can offer us, let's go to see the complete technical sheet , because this year the Samsung Galaxy Watch 4 offers specifications at the height of the best watches:
Dimensions and weight: 44.3 x 43.3 x 9.8 mm and 53 grams.
Strap: very good quality silicone.
Display: 1.36 inches SuperAMOLED with a resolution of 450 x 450 pixels.
Processor: Exynos W920 5nm.
Storage: 16 GB storage, 8 GB free.
Connectivity: NFC, GPS, WiFi 2.4 / 5 GHz, Bluetooth and 4G (optionally).
Ports and sensors: BioActive sensor with blood pressure meter, heart rate, stress meter, EKG, SpO2 meter, accelerometer, barometer, gyroscope and geomagnetic sensor.
Battery: 361 mAh.
Operating system: One UI Watch with Wear OS.
Other features: two physical buttons, microphone, speaker, 100 sport modes, IP68 water resistance, 5 ATM and MIL-STD-810G certification.
Price: from 270 euros.
Buy: Samsung Galaxy Watch 4 44mm green (Amazon)
Buy: Samsung Galaxy Watch 4 44mm Black (Amazon)
Let's talk a little about the design , Samsung has us used to all its watches having a normal watch appearance, that is, a priori they do not look like smart watches, so it is one of the aspects that its users like the most, the simplicity with which a Samsung watch can go unnoticed.
First of all, we must clarify that this year Samsung has created two versions of the Samsung Galaxy Watch 4 as we have said before. In the case of the Samsung Galaxy Watch 4 Classic, it incorporates a physical rotating bezel and a more premium dial finished in steel and the Samsung Galaxy Watch 4 has an aluminum case and has a bezel, but in this case it is digital, the rest of the specifications are the same, except for the sphere sizes.
At first glance, the Samsung Galaxy Watch 4 surprises with its size , since the design is much more similar to the previous Galaxy Active, a more sporty design without a physical bezel . We have a watch that is 11.1 mm thick in its 44 mm version and that also weighs almost 53 grams, so we will notice that we always wear it. In the case of the 40 mm version, we will have less weight, but it is also a watch that will be noticed.
The Samsung Galaxy Watch 4 is made of aluminum with a glass sphere protected by Gorilla Glass DX + , so it is good that we avoid all possible blows. We are facing a watch that is robust and it will take a lot of force to break its screen, but be clear that a small blow will take. It is also MIL-STD 810G military grade certified.
Let's go on to see a little what the new Samsung Galaxy Watch 4 is like, on the front we can see the screen , which in this case does not occupy the entire frame of the watch, as it is only used to make that tour of the touch bezel: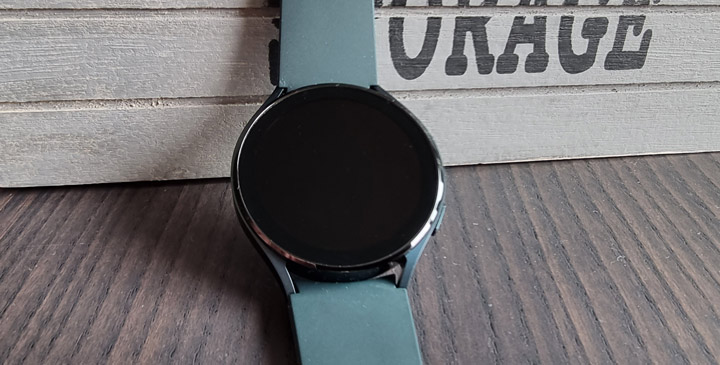 If we turn the watch we can see all the sensors it has , in this case we have the heart rate sensor, the sensor for ECG, BioActive sensor which, together with the buttons, will be able to obtain the body composition and atmospheric pressure sensor: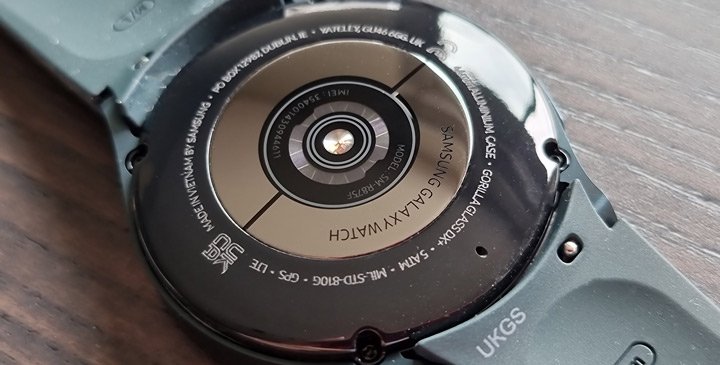 On the right side we find two buttons with which, together with the BioActive sensor, you can perform the ECGs, we also find the microphones: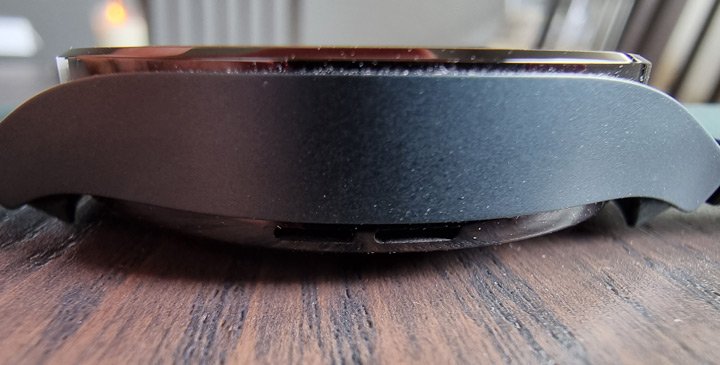 Finally, on the left side we can locate the speaker that the Galaxy Watch 4 has built-in to be able to listen to the calls, notifications or music that we export to the clock.
At the top we find the hole where the NFC sensor is located to be able to pay with our mobile, where we can put Google Pay or Samsung Pay, whichever we like the most.
A screen with a perfect view
Let's talk now about the screen of the Samsung Galaxy Watch 4 . Its screen is made of tempered glass protected by Gorilla Glass DX as we have said before, its panel has a size of 1.36 inches and is SuperAMOLED . With a resolution of 450 x 450 pixels and a density of 330 PPI we are, without a doubt, in front of a large screen that we also anticipate that it can be seen in any outdoor situation even if there is too much sun.
The viewing angles are perfect, as we can see the time from any position. Of course, we can activate the clock when we raise our wrist and to turn off the screen we will only have to cover the clock with our palm. As a fact, it is almost impossible to see the pixels of the clock at a moderate distance, because with analog spheres we can think that it is a real clock.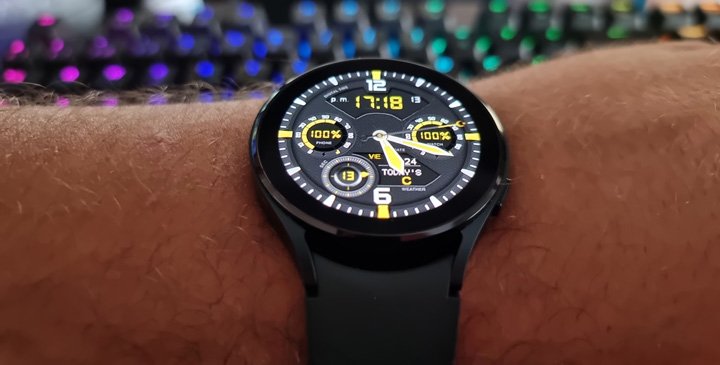 One of the things that we could appreciate a bit more would be the use of the entire screen since we have somewhat thick edges, but the size of the screen is more than correct and all the elements of the spheres, menus and actions are perfectly visible.
The spheres or watchfaces are the elements that most differentiate our watch . Thanks to them we can have a unique watch since we can create our own or choose from the wide range that we will have available for download thanks to the fact that we have a watch with Wear OS, since we have been able to see the best of Google with the best of Samsung and The result has been this incredible Samsung Galaxy Watch 4.
By default we will have several spheres that are intelligent , by this we mean that the sphere performs different actions when notifications arrive. For example, in the case of the "Boy and the Bear" sphere, these will point to the left side of the screen to indicate that we have an unread notification, we must also mention that this type of sphere consumes much more battery and is something that we must look out.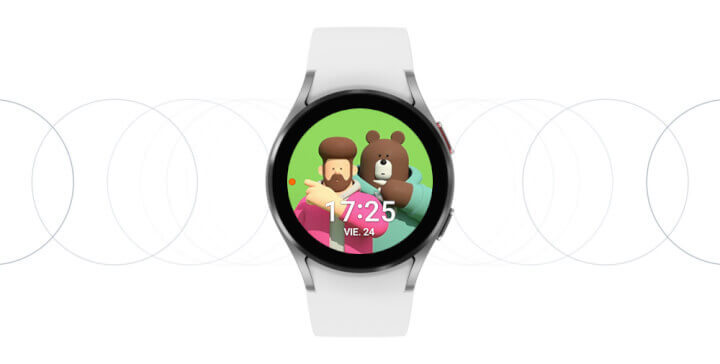 Performance Above All
Let's put the screen aside and now let's focus on the performance of the new Samsung Galaxy Watch 4 , as it is one of the strongest points of this device. Samsung is not new to Google's operating system, since it already had watches with Wear OS, but Tizen ended up arriving and Google again to give rise to One UI Watch, which we can say is the mixture of Wear OS with the layer of Samsung.
The Samsung watch has an excellent design with exquisite programming , the new Galaxy Watch 4 has access to install hundreds of apps since we have Google Play so we can have all we want.
It is clear that it is a watch that is designed to be used together with an Android mobile, much more if it is a Samsung, so we will have advanced functions such as Auto Switch or the possibility of using our personal Samsung account to use Bixby and Samsung Pay.
Even if we have Wear OS, the voice assistant that we can use will only be Bixby , a shame that we cannot use the Google Assistant since it would offer much more than Bixby, but the functions it performs are very good.
The integration with Samsung is magnificent since in order to monitor the sport we will have to use the Samsung Health app and in order to see the ECGs we will have to download another app called Samsung Health Monitor.
The Samsung Galaxy Watch 4 has 1.5 GB of RAM and 16 GB storage that, despite it seems many are left at 8 GB , so we will only have 8 GB free to store our music or screenshots that we talk about the clock. Its processor is Samsung's own, an Exynos W920 , the first to be 5 nm for smart watches.
Its performance is excellent in all aspects, we have not noticed a drop in frames or any jerk at any time and all the actions we have carried out on a day-to-day basis have worked perfectly. Move between apps, open applications in the background, change areas several times, all without problems.
As for notifications, this time Samsung has opted to be able to consult all kinds of notifications , and we can even respond to WhatsApp messages that come to us, yes, from our own watch, in addition, we can do it in several ways.
With the microphone through voice and text recognition, with an alphanumeric keyboard we can add emojis and draw letters to write the text. In addition, we will also have a series of predetermined responses to respond more quickly in the event that we do not want to entertain ourselves with the answer, as we can see in the image below.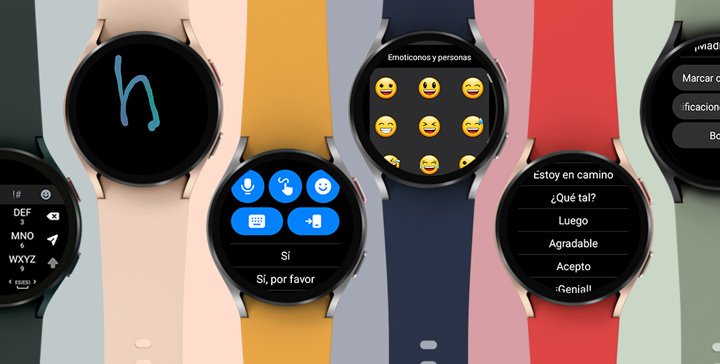 We can make and receive calls as long as we are connected to our mobile in the case of the Bluetooth version or we have an e-SIM in the LTE version , although this version is somewhat more expensive. We can listen to music from the clock locally, but as long as we have headphones connected.
Sensors everywhere for measurements of all kinds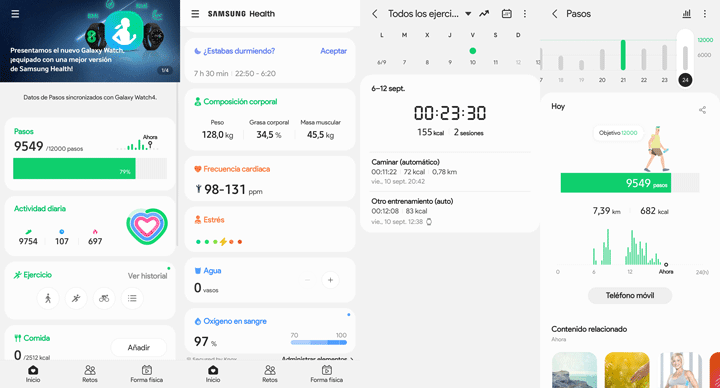 The Samsung Galaxy Watch 4 brings with it a new catalog of sensors , as we have mentioned before in its technical sheet. Samsung's BioActive sensor will take care of it all along with the two physical buttons that help with pulse measurements, ECG and body measurement. You must bear in mind that the watch is not a medical device, so it is not valid for any type of diagnosis.
Measuring the heart rate is simple, we will only need some patience, like stress and perform an ECG , but to be able to calibrate the blood pressure we will need a medical blood pressure monitor and do the test 3 times together with the clock to record the data in the Samsung Health app.
As for sleep, its analysis is really complete , we will have from the total hours of sleep such as the detection of snoring, an interesting function to know how much we snore and how, because we can also activate a function to record it.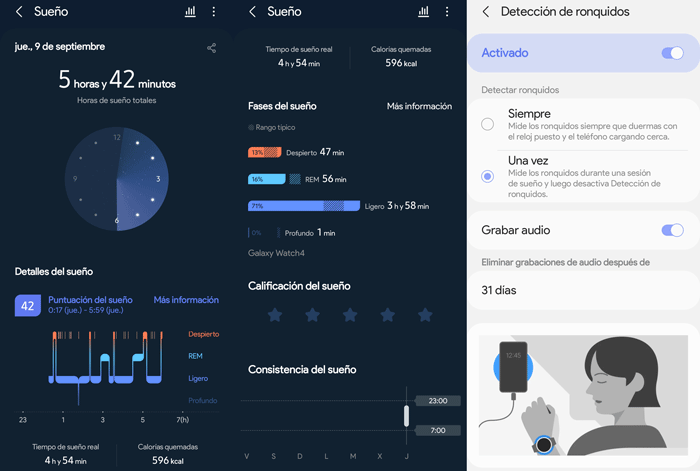 We can also measure the level of oxygen in the blood and stress through all the sensors that the Samsung Galaxy Watch 4 has, all the data can be consulted in the Samsung Health app. Finally, in terms of measurements, we can also do a body composition measurement that will indicate a lot of data about us.
Now let's move on with the sports measurement, the Samsung Galaxy Watch 4 has more than 100 sports modes , in addition, it has a function that is activated automatically when it detects that we are doing a sport that works very well, but it also has faults, as climbing stairs is not exercise.
Before we mentioned that it is a large watch but that we can carry perfectly, it is very comfortable to wear, in addition, it has IP68 resistance, so it is water resistant and up to 5 ATM deep . It also has MIL-STD-810G military certification , so we can say that we are more than protected against dust, shocks and water or mud.
Your battery, the weakest point
In order to conclude this review, we are going to comment on one of the most interesting aspects in terms of smartwatches, the autonomy of its battery. We anticipate that if you are looking for a watch that has a battery life of a week or more, do not continue reading, because the Samsung Galaxy Watch 4 will not exceed two days of autonomy.
We are talking about the Samsung Galaxy Watch 4 having Wear OS and One UI Watch , so we have a very powerful operating system . We can make calls, receive them, answer them, talk with our phone, navigate with our own watch and GPS, sports metric measurements, etc. We can do everything, so it is clear that the battery has to be depleted by all this.
It all also depends on how we use the watch , because with all the functions activated it will only last one day and we will have to charge it daily. The battery it carries is 361 mAh and we have managed to reach 42 hours of autonomy , but surely we could stretch up to 48 hours, yes, with active energy saving, otherwise it will be impossible.
Now let's talk about charging the watch, the Samsung Galaxy Watch 4 charges through its magnetic charger (which could have a bit more magnetism, since it comes loose too easily). It can be plugged into any USB port, the charging time will be about 2 hours for a full charge , it is somewhat slow in case we want to gain some battery before leaving home.
Samsung Galaxy Watch 4, an excellent watch in all aspects
To conclude with our review we have to say that the Samsung Galaxy Watch 4 has left us a great taste in our mouths , its screen, its performance at the height of the best and perhaps above them, all its functions and also having Wear OS and Google support for apps. Without a doubt, it is a watch that deserves a lot to buy.
Making payments with the NFC of the watch is one of the best options , since we will not need to take out the mobile or the wallet. Answering calls without touching the mobile is a marvel, but it is not perfect , we will not be able to use the Google Assistant. Its screen could have been more used and its autonomy is well below its rivals , although it has many more functions than the rest.
Buy: Samsung Galaxy Watch 4 44mm with LTE Black (Amazon)
Strengths of the Samsung Galaxy Watch 4 in our review
Screen with a high resolution and SuperAMOLED.
Sensors of all kinds.
Wear OS is wonderful and looks great on the Samsung Galaxy Watch 4.
His health section is really complete.
The design is very attractive.
Weaknesses of the Samsung Galaxy Watch 4 in our review
Some of its functions are only compatible with Samsung and Android.
We will not exceed two days of battery.
Bixby cannot be replaced.
Our valuation
Design: 9
Screen: 10
Hardware: 9
Autonomy: 7
Software: 9
Price: 7
Overall score: 8.5