Adobe , the American software company, has announced updates with new creative features in Photoshop for iPad and Adobe Fresco . We'll tell you what's new .
Photoshop on iPad has gained points for agility and now allows you to perform several functions with a single touch : fill areas evenly according to content, remove the background of an image, select subjects with detail and automate the balance of tones, contrasts and colors.
And as for Adobe Fresco, the new version 3.6 offers two features not seen to date: the magic wand, capable of quickly selecting any area; and the liquify tool, designed to rotate, drag, swell, twist or stretch compositions.
Photoshop on iPad
Released in 2019 , Adobe Photoshop has evolved by leaps and bounds since it was released in its iPad version . With the latest news, tools as important as those for retouching, adjusting or mixing photographs have been strengthened.
Precision and control have been around for a long time in this photo editor, and it just needed to be capped off with a feature that arrived this spring: agile one-touch functions .
For this reason, the novelties of Photoshop are based on being able to modify the images simply with a touch: eliminate the background or parts of an image, fill in areas … and much more that we will tell you about next.
Fill areas based on content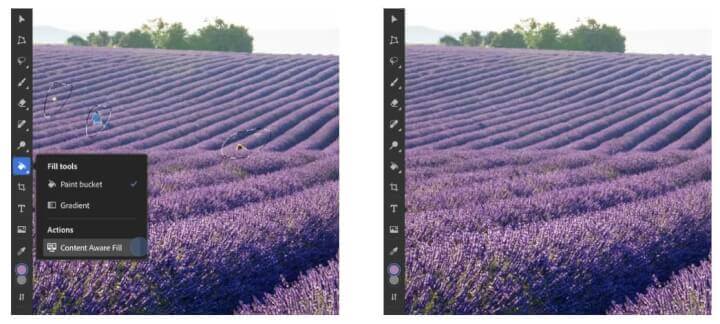 This is one of the most valuable functions of Photoshop Desktop, and now it also lands in the version for iPad.
This is able to select any component of a photo with a single touch and use artificial intelligence to fill it evenly. It does this based on the surroundings of the image, and is very useful for removing unnecessary people from a photo, erasing elements, and even correcting dust .
If you want to get to it, tap on the "Lasso" tool or one of the app's smart selection features, such as "Content-Aware Fill" which you'll find under "Object Selection to pick an area".
remove background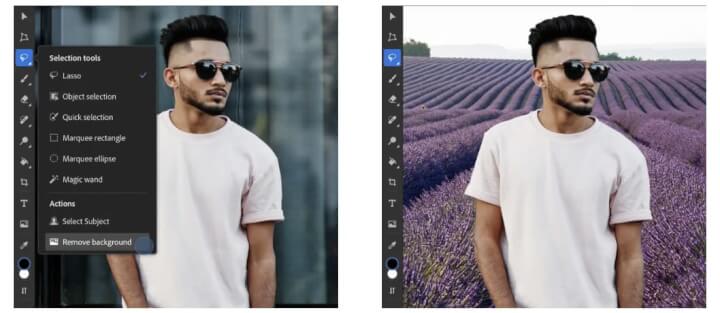 If the "Fill areas according to their content" function was one of the most important, we can say that the "Remove background" function is one of the most revolutionary .
With it, we can eliminate the original background of a photo and even freely place a subject (be it an animal, person or object) in the new background that we want. In addition, you will be able to do it without the need to modify the initial pixels of the image.
To do this, you will simply have to open the image and choose the "Remove background" option located in the "Lasso" tool. Another possibility is to do it through the so-called "Quick Actions" located in the "Properties" panel.
select subject


"Select Subject" is a very detailed function designed especially to work on people and hair in particular .
On many occasions, people are the fundamental element of a photograph, and we would like to be able to move them as we please. This improved version is capable of selecting, with absolute precision, details that are sometimes as imperceptible as a lock of hair or the peak of a shirt .
It is a comfortable tool that can save hours of work , since the difficulty of doing it manually and perfecting all the details is very great. You will get it by clicking on "Select subject on a portrait" and waiting for the tool to do it automatically.
Contrast, color and tone automation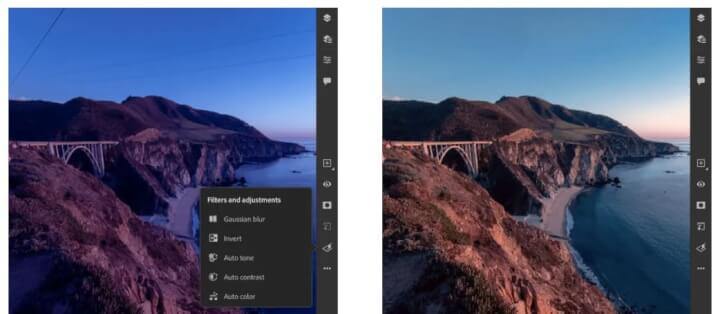 What is the most basic in terms of photo editing? Without a doubt, these are the three most demanded features by Photoshop users: contrast, color and tone.
And if the program gives you the ability to adjust it automatically instead of having to do it manually , it saves a lot of time and effort. Although for tastes the colors. And never better said, because you can always modify the balances to your liking and create a totally personalized photo.
However, these actions allow you to easily solve all kinds of tone problems and correct color imbalances . It is accessible through the "Filters and adjustments" icon , located on the right side.
font explorer
One-tap actions aren't the only new spring releases in Photoshop. Here are the other features you can enjoy on iPad from now on:
The "Type" tool offers more than 20,000 Adobe fonts.
Upload custom fonts.
Modify the name of the document while editing.
Synchronize the document in the cloud.
View notes that other users have added to shared documents.
Adobe Fresh
After its creation in 2019 , the same year as Photoshop on iPad, Adobe Fresco has not stopped improving to try to meet the needs of its users.
The goal has always been to facilitate the creation of art, whether drawing, painting or immersing yourself in new experiences. Currently, all of the familiar tools and new features are available for iPhone, iPad, and Windows .
Discover Adobe Fresco, the drawing app with an unlimited repertoire of brushes: manga vector brushes, perspective grid capture, reference layers, and more. Let's see what's new in version 3.6 .
Magic wand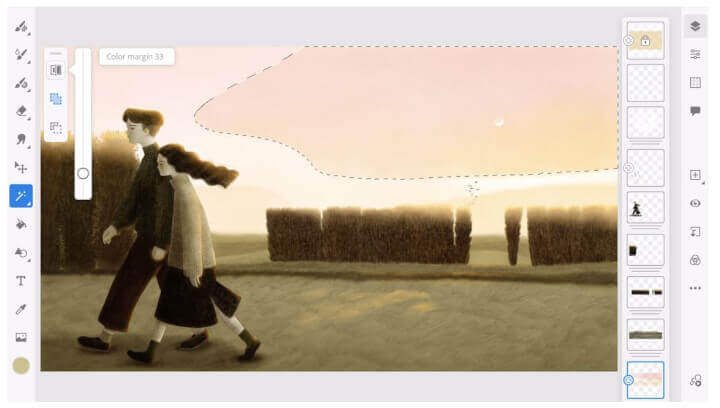 The "Magic Wand" tool allows you to quickly select any area of your composition. Once this is done, you can dynamically adjust that selection to the part of your work you want to focus on.
Liquefy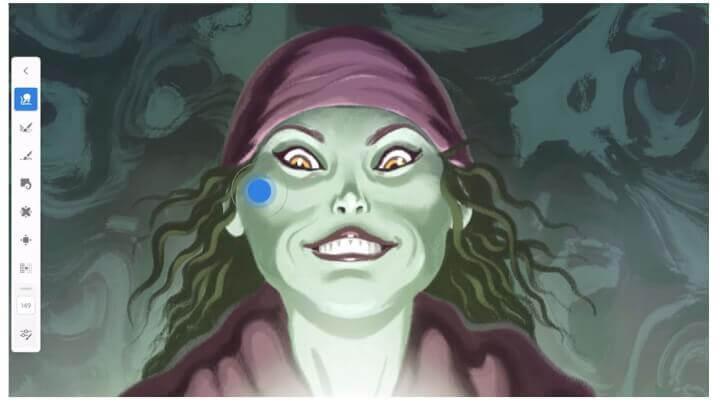 Whether you're a fan of almost inconspicuous adjustments or professional changes, the "Liquify" function will become your best asset. With it, you will be able to modify any part of the image: rotate, drag, swell, twist or stretch.
Although Adobe Fresco has always been a free application, as its popularity has grown and people increasingly take refuge in the art of painting, they have decided to make it a paid application. Currently, it is priced at €10.99 per year .
It is clear that Adobe will never stop surprising us and, above all, taking care of its users. Discover for yourself the range of possibilities that opens up with the new creative features of Photoshop for iPad and Adobe Fresco .