YouTube is one of the platforms on which more content is published. But there are alternatives like Odysee, a platform with which you can earn money just by watching videos . Odysee is a platform that allows you to upload content of all kinds without censorship.
Censorship is good in many ways, for example, to filter content that minors should not see, or to hide sensitive content from viewers. YouTube has a very strict policy regarding the content that is uploaded to its platform.
In the case of Odysee we can upload any video and this generates that we can consider it as a double-edged sword, since we could get to see some content that is a lie, such as the hundreds of hoaxes that circulate on the network.
What is Odysee and how does this alternative to YouTube work?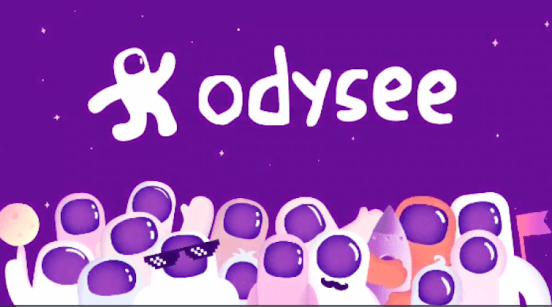 Odysee seeks to be the perfect alternative to YouTube, a free and decentralized alternative that was created in September 2020. The person in charge of developing this platform has also been in charge of creating a platform similar to BitTorrent called "LBRY" with which you can win money through file sharing.
With Odysee we can earn money , this platform also offers a wallet in which we can save credits called LBRY , which is the currency that we will use on the platform to support the creators and also in which they will give us money.
Earlier we talked about censorship where Odysee is reluctant, but they promise to only censor pornography, incitement to violence, and extreme violence . It is logical if what they want to turn into a platform free of sensitive content and open to everyone who wants to upload videos without fear of being removed or blocked in some countries.
In Odysee we can watch videos of all kinds , from political speeches to conspiracy theories, yes, you must be very careful to believe or not the different theories, because nobody will tell you if the content is real or not.
Earn money with Odysee, a slow and sure action

Odysee offers all of its content for free with no registration required, but some of the videos are paid for (this is the choice of the content creator). The option to register allows us to follow our favorite channels to be aware of their videos.
If we enter their website Odysee.com we can see an interface very similar to that of YouTube , but on the left side we have a series of sections in which we can highlight the "Hot" section in this section we can see the most viewed and searched videos of the moment.
In this same column you can also see the channels you follow and you can manage all of them. Despite only having 10 different categories , there are many more that you can find in your search on the platform. Currently, the platform has more than 8 million registered users , so it is becoming a great platform.
Before we mentioned that with Odysee you can earn money , yes, while we use the platform, whether it's video videos or uploading content, we can gradually earn LBRY credits . Odysee also has a rewards mode that we can access from the menu.
This mode has 10 different types of rewards. Each of them requires a series of actions that you will have to complete, for example, you will have to watch 10 different videos to get 0.01 LBRY or earn 0.01 LBRY for just creating your own channel.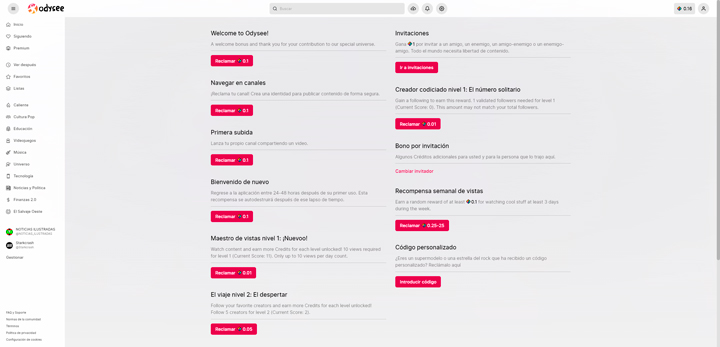 Odysee Premium
Odysee also has a premium feature that will allow you to watch all videos, have a profile badge, stream, and have access to some early access features and functions. The prices are really affordable, there are two subscription methods:
0.89 euros per month: with this you will get a badge, make direct and early access.
2.68 euros per month: in addition to the above benefits, you can remove ads from the platform.
Now you know what the Odysee platform is with which you can watch videos, earn money and much more open content with which to earn money. Odysee is presented as the best alternative to YouTube.