The new MIUI 13 is official and we will tell you all the news about Xiaomi's new customization layer for all your mobiles, tablets, watches and TVs that you can use from now on. With this update, the devices of the Asian firm look much more modern and with a unique appearance compared to the rest of the offer of Android devices on the market.
However, you should know that not all Xiaomi terminals are compatible , some phones will be left out of the list because they do not have the capacity to support the new version of MIUI, which appeared with great news about which we will tell you below, then to know the minimum system requirements.
Regularly, the incorporation or not of a phone and any device in the list of upgradeable models can be linked to a selection of the firm itself based on the capabilities of the hardware itself, so Xiaomi already has a list with the devices that can receive the new version of MIUI 13 and the requirements to get it.
Now we will talk about the news that comes with MIUI 13 , which will make your mobile, your watch or your TV look completely renewed:
Improved performance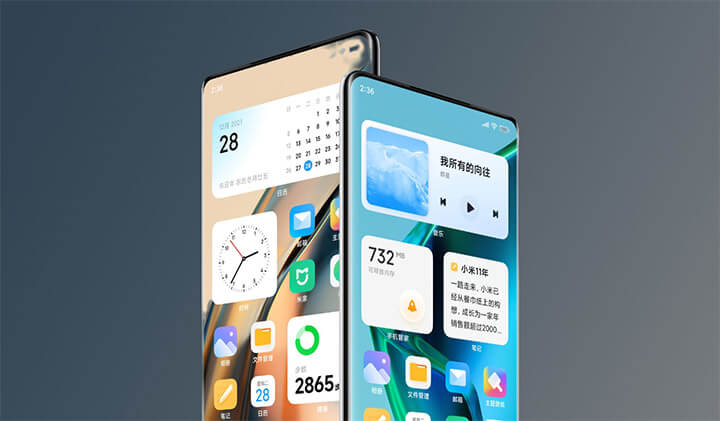 One of the main novelties of MIUI 13 is something that everyone expects and is that the performance of the device is benefited. With the new version, Xiaomi claims to have achieved up to 26 percent optimization of the operating system compared to the previous version, but they also exceeded the performance in third-party applications by more than 50 percent, that means that your mobile will be faster.
MIUI 13 launches control center
Another novelty is the new control center that is called Mi Magic Center, from there you can interact with other Xiaomi devices, creating compatibility in its own ecosystem. This new functionality will allow you to transfer files, make copies of notes and in general, make interaction much more fluid with other devices.
New Widgets
Xiaomi also put his lens on the Widgets system to renew and improve it. The new Widgets are now more aesthetic and also include many more functions of the user's own daily life, but especially you will notice that they are now more animated.
New font and wallpapers
Two elements for the user interface are added to the novelties. First of all, Xiaomi incorporated a new font called MiSans with its own design that will be present throughout the menu and throughout all interactions.
On the other hand, new wallpapers are added, in addition, better color management is carried out and thus better use of each screen, adjusting the tonality even at the brightness level for a better experience. Some of the new backgrounds are animated.
New caller ID
With the new version of MIUI 13 a new caller ID is also added, which will take care of detecting Spam calls and hanging them up automatically, so you don't have to deal with that kind of annoyance.
Detect dangerous apps
We already know that Google Play detects dangerous apps, but that they are installed from the store itself. Now MIUI 13 has the ability to detect potentially dangerous applications , even before installing them and give you the warning to avoid them.
Safer Mi Pay system
Likewise, a new layer of protection for Mi Pay is added to the security news in MIUI 13, because now it will be able to detect sensitive information, such as documents and cards to add additional protection in case of an oversight.
Xiao AI: Xiaomi virtual assistant
Now Xiaomi's virtual assistant is customizable, it is only available within China, but you can add a face to it and also choose clothes.
MIUI 13 Pad
MIUI 13 will have an exclusive version for tablets, its name will be standard and it is MIUI 13 Pad, something very similar to what Apple did with the version of its operating system for the iPad, in fact, when you see it, it has elements that are very close to the Bitten apple tablet operating system.
In this version multitasking stands out , as well as a redesign of the menu and the incorporation of specific functions for this version. In this version of MIUI 13 for tablets there are more than three thousand apps that have been adapted for its operation.
Mobiles that will receive MIUI 13
There is no definitive list of the devices that will be compatible and will receive MIUI 13, however it is known that the Xiaomi 12 will be the first to receive the new customization layer.
However, an update schedule has been leaked that offers a complete list of all terminals that will receive the version in three phases from the current announcement:
First phase
These are the phones that will be updated from now until February 2022:
Xiaomi Mix 4
Xiaomi Mi 11
Xiaomi Mi 11 Pro
Xiaomi Mi 11 Ultra
Xiaomi Mi 11 Lite 5G
Xiaomi Mi 11i
Xiaomi Mi 11X Pro
Xiaomi Mi 11X
Xiaomi Mi 11 Lite
Xiaomi 11T
Xiaomi 11T Pro
Xiaomi CIVI
Xiaomi Mi 10S
Xiaomi Mi 10
Xiaomi Mi 10 Pro
Xiaomi Mi 10 Ultra
Xiaomi Mi 10T
Xiaomi Mi 10T Pro
Redmi K40
Redmi K40 Pro
Redmi K40 Pro +
Redmi K40 Gaming
Redmi K30S Ultra
Redmi Note 10 Pro 5G
Redmi K30 Pro
Redmi K30 Pro Zoom
Redmi K30 4G
Redmi K30 5G
Redmi K30i 5G
Redmi K30 5G Speed Edition
Redmi K30S Ultra
POCO F2 Pro
LITTLE F3
LITTLE F3 GT
POCO X3 Pro
LITTLE X3 GT
Second stage
These models will receive the MIUI update March 13 and April 2022:
Xiaomi Pad 5
Xiaomi Pad 5 Pro
Xiaomi Pad 5 Pro 5G
Xiaomi 11 Lite 5G NE
Xiaomi Mi 10 Lite
Xiaomi Mi 10 Lite Zoom
Xiaomi Mi 10i
Xiaomi Mi 10T Lite
Redmi Note 11 (China)
Redmi Note 11T (India)
Redmi Note 11 JE (Japan)
Redmi Note 11 Pro (China)
Redmi Note 11 Pro + (China)
Redmi Note 10
Redmi Note 10S
Redmi Note 10 (China)
Redmi Note 10 5G (global version)
Redmi Note 10T (India)
Redmi Note 10T (Russia)
Redmi 10
Redmi 10 Prime
LITTLE M4 Pro 5G
LITTLE X2
Third phase
This phase begins from April 2022 and will continue until completed:
Xiaomi MIX FOLD
Xiaomi Mi 9
Xiaomi Mi 9 SE
Xiaomi Mi 9 Lite
Xiaomi Mi 9 Pro 5G
Xiaomi Mi 9T
Xiaomi Mi 9T Pro
Xiaomi Mi CC 9
Xiaomi Mi CC 9 Pro
Xiaomi Mi Note 10 / Pro
Xiaomi Mi Note 10 Lite (Android 12)
Redmi K30 Ultra
Redmi K20
Redmi K20 (India)
Redmi K20 Pro
Redmi K20 Pro (India)
Redmi K20 Pro Premium Edition
Redmi Note 8 2021
Redmi Note 9 4G
Redmi Note 9 5G
Redmi Note 9T 5G
Redmi Note 9S
Redmi Note 9 Pro (India)
Redmi Note 9 Pro (global version)
Redmi Note 9 Pro 5G (China)
Redmi Note 9 Pro Max
Redmi Note 10 JE (Japan)
Redmi Note 10 Lite (India)
Redmi Note 10 Pro (India)
Redmi Note 10 Pro Max (India)
Redmi Note 10 Pro (global version)
Redmi 10X 4G
Redmi 9A
Redmi 9AT
Redmi 9i
Redmi 9A Sport
Redmi 9i Sport
Redmi 9C
Redmi 9C NFC
Redmi 9 (India)
Redmi 9 Activ (India)
Redmi 9 Prime
Redmi 9
Redmi 9T
Redmi 9 Power
Redmi 10X 5G
Redmi 10X Pro
Redmi Note 8
Redmi Note 8T
Redmi Note 8 Pro
Redmi Note 9
POCO X3 (India)
POCO X3 NFC
LITTLE M3
LITTLE M2 Pro
LITTLE M3 Pro 5G
LITTLE M2
LITTLE C3
LITTLE C31