The possibility of the future existence of the third blue check in WhatsApp is circulating on the net, so it is convenient to clarify this circumstance to avoid any type of confusion and for users to be clear if this functionality will finally reach this application or not.
Most WhatsApp users already know the usefulness of checks in WhatsApp messages . This symbol appears when we send a message in a conversation, and it is a good time to do a quick summary about what each one indicates.
If only one appears, it indicates that the message has been sent , but has not entered the recipient's mobile phone, while if two appear, it means that the message has arrived well and that, in addition, it could have been read, and we say "could" because there is another scenario.
There is a double blue check that indicates that the message has been sent , has arrived and has been read, but it may happen that that blue color does not appear, which would indicate that it has not been read or that it has, this last case occurs when the person you have disabled the read receipt.
But now information is circulating that states that WhatsApp would be working on implementing a third blue check that would supposedly appear when someone in a WhatsApp group took a screenshot , accompanied by a notification. Let's see if this is true or not to clear up all doubts.
There will be no third blue check
The reality is that there will not be a third blue check , for now it will not be like that. It has not been announced by Meta (responsible for WhatsApp) or in media such as WABetaInfo that usually anticipate WhatsApp functionalities before they officially appear.
In fact, the information has been denied by such means. If they were really working on this possibility, we would have known at least of its existence for a few days or weeks and possibly even seen a minimal catch of the novelty, but it is not the case.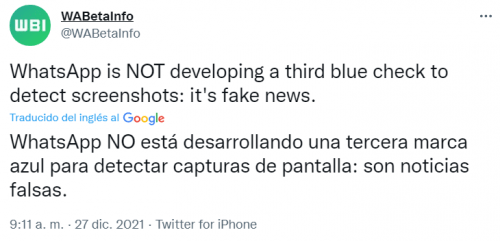 That third blue check would indicate that a user would take a screenshot of a conversation , and would warn the rest of the participants that this event has occurred. For now that will not be a reality, so you can continue to capture without problems.
You can continue taking screenshots without anyone in the group finding out, there is no third blue check and they will not implement it in the short term . However, you never know if WhatsApp works on something like this for the future, it would be a very remote possibility.
In any case, if that happens you will be informed in detail, but the chances of that happening are very low, so you can rest easy for the moment. Of course, the double blue check will continue to exist that will indicate that the recipients have read the message.
Therefore, the third blue WhatsApp check does not exist and will not exist at the moment to notify users of screenshots in a group conversation, you can rest assured about it, but you should know some of the news that WhatsApp prepares for 2022 so that you can know in detail when they are officially launched.