Instagram will add new very attractive features to Instagram direct messages, among them we will be able to respond to direct messages without leaving the Instagram feed, we will have a new theme and much more. Instagram finally changes direct messages completely .
Instagram Direct, that's what Instagram's instant messaging service is called, because finally, the developers have revolutionized the way direct messages work , adding many functions, polls, Spotify and a new theme, among many others, let's see which ones They are.
Instagram direct messages are increasingly the method to communicate , either because we react to Stories and therefore respond through Instagram Direct, or because we spend much more time on this social network than on others like WhatsApp or Twitter.
Chat with your friends from anywhere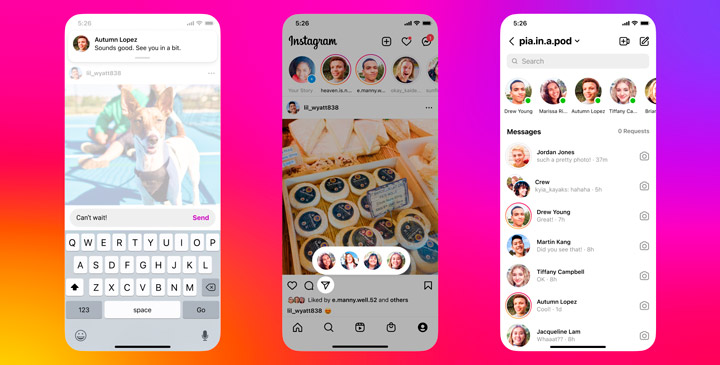 With the following new features you will be able to reply, share and chat with your friends from the Instagram feed:
By this we mean that if you receive a message to Instagram and you are viewing your feed or another, you will be able to reply from the same screen , without having to open the direct messages section.
Another novelty within this same theme will be the option to share content much faster with your friends . Now, if we press and hold the share button on a publication, the friends with whom we talk the most will appear through direct messages so that we can share it quickly and continue in the feed.
The last feature that focuses on communication with friends is viewing online status . Despite generating some controversy, with this option you will be able to see who of your friends is online from the main panel of Instagram Direct. This will help you know whether or not you'll be able to get a quick response from that friend.
Full features in direct messages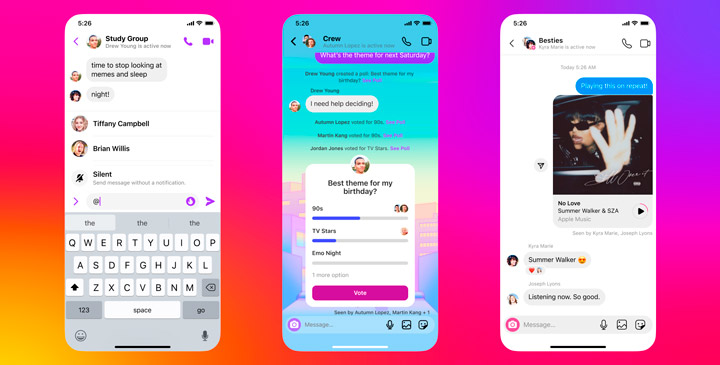 Direct messages will receive a revolution , they will even be better than what they are in WhatsApp, it seems that Meta is giving priority to this method of communication and is leaving behind some apps. Let's see what's new with direct messages:
Instagram is fully integrated with Apple Music, Amazon Music and soon Spotify. This will make it possible to share a 30-second preview of a song to your friends via message and listen to it directly in chat.
Silent messages arrive, in case you have Instagram notifications activated, now you can send and receive silent messages at any time, this way you will not bother your friends. To do this you will have to add "@silent" in the message you want and with this you will not notify said message.
A new theme is coming to Instagram chats , something very similar to the themes that Facebook Messenger has, because now you will have it on Instagram Direct, a warmer theme for more personal conversations.
If you're one of those who has many groups on Instagram, now you can create polls within the chat , to be able to make group decisions and not have to leave the app if you're browsing other people's feeds.
These are all the news that you will be able to see soon in direct messages from Instagram , they are undoubtedly a great revolution and what, surely many of you think, why do not all these functions reach WhatsApp? We may never know, but at least we have them on Instagram Direct, which is becoming more and more popular.