Going from iPhone 11 Pro to iPhone 13 Pro is it worth it? something that many seasoned Apple users are wondering now that the new smaller Pro phone kid in the series has a new version. The truth is that the iPhone 11 family marked a before and after in the design of the new generations, although the changes with respect to the newcomer series are many and very notable if you did not go to an iPhone 12.
Different size screen, a more robust processor, different storage versions, better battery, new camera … Many are the things that have changed from that generation to what Apple offers today, so we are going to review if it is worth giving the jump instead of making a stop for the iPhone 12 Pro.
From iPhone 11 Pro to iPhone 13 Pro: Design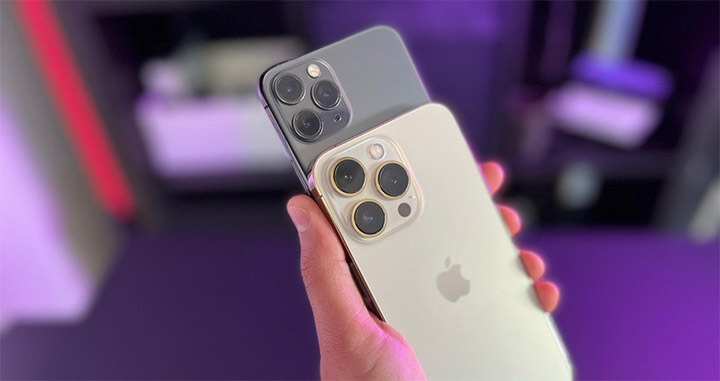 One of the first changes that we must highlight between one model and another is the design. The iPhone 11 Pro was the first to bring the square module to incorporate the trio of cameras , something that remains to this day in the new model, but which has undergone some slight changes in terms of dimensions and in how the lenses themselves stand out. .
The new iPhone 13 Pro has inherited from generations ago a back that gets dirty less easily compared to cheaper iPhones, although the glass is present in the camera module. It is a positive experience that has been rescued from the iPhone 11 Pro, in addition the edges and sides were no longer rounded like the 11 Pro, to be straighter on the sides and curved at the corners, paying homage to the iconic iPhone 4
The iPhone 13 Pro is slightly thinner than 11 Pro , going from a thickness of 8.1 millimeters to 7.65 millimeters; It is also true that the new model is heavier than its ancestor and they are separated by almost 25 grams of difference, which in a phone does matter.
Display: Has it improved between the iPhone 11 Pro and iPhone 13 Pro?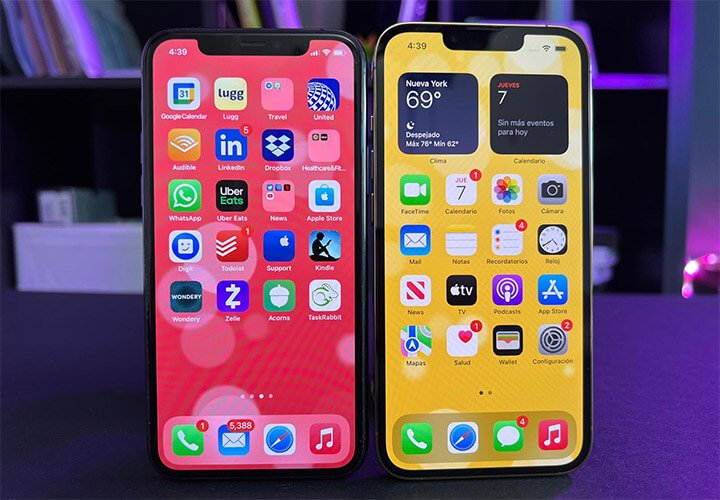 If you have an iPhone 11 Pro and you think it is time to change, you are right, especially considering the new screen. Things with the 11 Pro panel are going well, it is a 5.8-inch OLED with 60 Hz refresh, but Apple launched a bigger bet for its new mobile and that is that now they include a 6.1-inch panel with better resolution and more pixels per inch.
Another element that we will see in the new screen is the ProMotion system with adaptive refreshment of 120 Hz , that means that this new screen has the ability to adjust its graphics as required by the content and thus be able to save energy on the phone as the case may be. , you don't have this on the iPhone 11 Pro.
The brightness is also another element that has improved between one screen and the other. The new iPhone 13 Pro offers up to 1,000 nits of brightness , while the panel on the iPhone 11 Pro only reaches up to 800 nits of brightness, a difference that becomes noticeable especially when you are in sunlight.
Thus, we must also point out a design element on the screen itself and that is that the notch was reduced from one version to another, in the new iPhone 13 Pro it is 20 percent smaller than in the iPhone 11 Pro, although the selfie camera and Face ID sensor.
Performance: when two generations weigh in on performance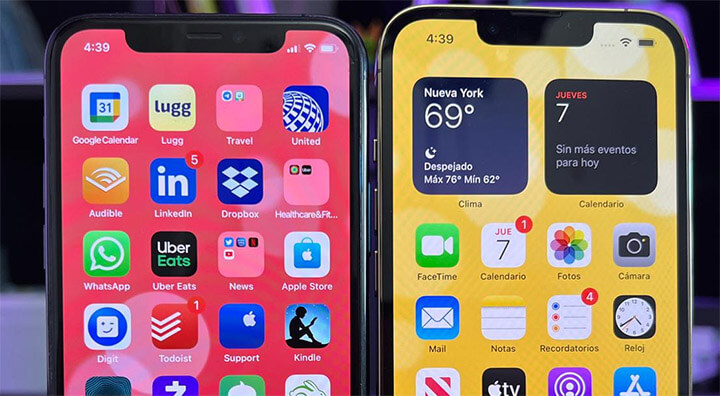 Some of the reasons why make the jump from iPhone 11 Pro to iPhone 13 Pro lie in the performance section, because things have improved, something that you will not be able to notice too much if you are an average user.
The iPhone 11 Pro has an A13 Bionic processor that is still quite good, with six cores: two of them dedicated to performance and four to energy management; It has an octa-core neural engine, quad-core GPU, and overall performs very well.
When you turn your gaze to the new iPhone 13 Pro with the A15 Bionic chip, you notice that things have changed a lot, but in a positive way. This processor has six cores that work in the same way, but its neural engine includes 16 cores and the GPU has five cores. This is the fastest processor on the market, it is even 50 percent more powerful than its competition.
We know that Apple does not officially report on RAM, however unofficially it is said that the iPhone 11 Pro has 4 GB of RAM, while the new iPhone 13 Pro comes with 6 GB.
Storage is another area where there were changes. The old iPhone 11 Pro is available with 64GB, 256GB, and 512GB; but in the new iPhone 13 Pro the 64 GB version disappears, instead it starts at 128 GB and they also add a 1 TB version of storage.
Battery, one more reason to change
Autonomy is a compelling reason why you decide to change your phone, even more so if you are an iPhone user. The iPhone 11 Pro has the capacity to offer about 18 hours of operation , something that has been the case in tests. It also has an 18-watt fast charging system that can fully restore autonomy in just under two hours.
In the case of the iPhone 13 Pro, it has the possibility of performing a whole day and arriving until the next morning with 20 percent of the charge, it also includes a 20-watt fast charge that translates into the ability to return the autonomy completely in less an hour and a half.
A few more hours of operation on the same charge is a compelling reason for deciding to change phones.
Cameras: They look the same, but they are not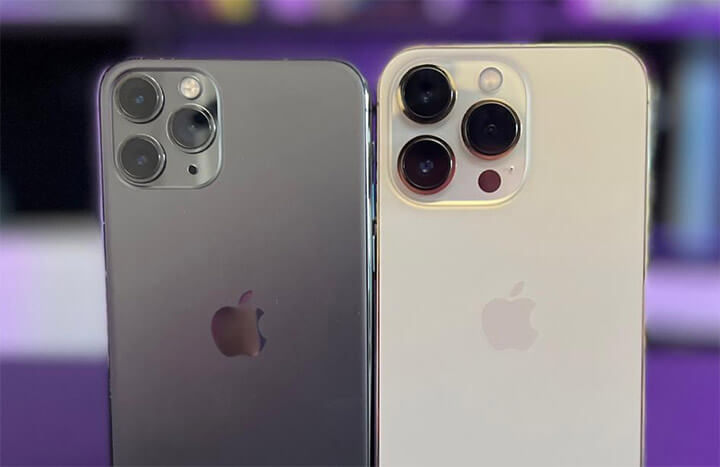 Certainly both phones have triple cameras, 12 megapixels each lens to be exact in both cases; then you will ask yourself, how does it change? and the truth is that there is much to say.
The new iPhone 13 Pro has night mode on all sensors , that means you will have better lighting. The telephoto goes from 52mm to 77mm, that means that you will have a better focus in the shots.
As for the zoom, in the new iPhone 13 Pro you have 3X optical zoom , in the iPhone 11 Pro it was 2X. The digital zoom in the new iPhone 13 Pro is 15X and in the old iPhone 11 Pro it is 10X, something that you can easily notice when taking photos of an object from a distance, you can see the difference.
We also see in the new iPhone 13 Pro, the new photographic styles that allow you to adjust the photos before taking them and improve the result.
There is another great improvement between one model and the other when recording videos, it is the new cinematic mode that is present in the iPhone 13 Pro and Pro Max. You have the ability to change focus between objects and people, that allows perfect shots and with the best possible focus.
Let's recap: The iPhone 13 Pro has a better 120Hz screen and a better battery, so those two details are something to think about.
Now, the performance, honestly if you already have it, it could take a bit longer, unless your storage is full, in which case you have few options left assuming you don't want to delete anything. Next we will give you our opinion on what you should do.
iPhone 11 Pro vs iPhone 13 Pro, better to change or wait until the iPhone 14 Pro?
The iPhone 11 Pro is still a very good phone, currently you can get in some online stores between 700 and 800 euros the basic version; While the iPhone 13 Pro is priced at 1,159 euros in its base version, so the difference is important in terms of money.
If your operator gives it to you for free or at a great discount, yes, without a doubt. We would recommend switching to the iPhone 13 Pro if the camera improvements impress you or if your phone's battery is running out of steam.
It is very difficult for you to have performance issues with the device , so that should not be one of the reasons to switch. You probably want a cooler design, new camera, cinematic video, big battery, and of course the 120Hz screen.
Finally, should you change your phone? That will depend on your needs, but if nothing of what we pointed out before is happening, it would be better to wait another year for the iPhone 14 Pro that will surely offer many more news.
Buy : iPhone 13 Pro (Amazon)