TikTok is the fashionable app and the one that has just achieved more than 1,000 million downloads, something that very few apps can boast of, surely you have ever wondered how you can activate the dark mode in the app since it is a setting visual that users like a lot, because we will tell you how you can do it.
The dark mode, as we have said before, is a visual adjustment that many users like , either because it completely changes the theme of the apps or our own device. TikTok in dark mode does not have major changes since it is an app in which we are constantly watching videos and therefore we can only notice the dark mode in the menus.
Activate the dark mode in TikTok and give the app a new look
In order to activate the dark mode in the TikTok app you will have to follow the following steps, first of all, you should know that we can only do it on iPhone , since it is not possible on Android.
Enter the app and access your profile by clicking on the icon in the lower right area.
Now you will have to click on the three lines in the upper right area to access the TikTok menu.

Click on "Settings and privacy" .
Look for the "Content and activity" section .
Then click on "Dark mode".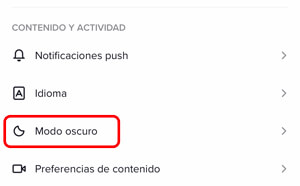 Finally switch from light mode to dark mode and you can now enjoy TikTok in dark mode.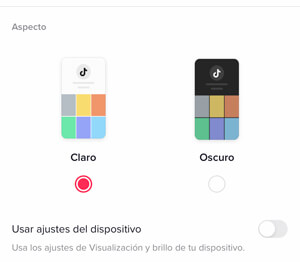 As you have been able to verify, it is a fairly simple operation that will only take a few seconds, in this way you will be able to see TikTok in darker places or without light without damaging your eyes so much since it is one of the purposes of dark mode, although it is also a change aesthetic and that your users like more.