Facebook is launching Privacy Center , a new control center so that the user can control their privacy from a series of well-classified sections and that is beginning to be available to a small group of users, so it will still take time to arrive.
It will be available for Facebook in its desktop version , which is where those users who have already reached it are now testing it, but at its launch it is expected that Facebook's Privacy Center will also be accessible from the official apps of the social network to the mobile.
This control center will be divided into 5 large sections called Sharing, security, data collection, data use and advertisements, in turn all these sections will have their corresponding subsections and parameters, some adjustable and others for information.
This will be, to a great extent, what the user will be able to find in the new 5 sections of the Facebook Privacy Center:
Security: aspects of account security, activation of two-factor authentication, etc.
Sharing – There will be settings here for who can see your posts, ways to delete old posts, etc.
Data Collection: Information about all of the information Meta collects and how all of that data may be viewed.
Use of data: clarifications on how and why the data collected by Meta is used, etc.
Ads: information about how the data collected by Meta is used for the display of ads, etc.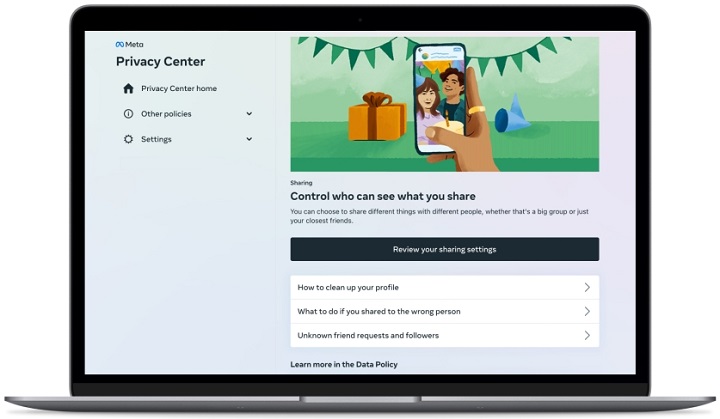 Facebook Privacy Center will be within the Facebook configuration and privacy section from the desktop version of the social network, to give you an idea of where it will be once it is available worldwide, since now it is only reaching users in the United States.
The company clarifies that Facebook's Privacy Center , which is used to control privacy, will not only keep all the sections and parameters mentioned, but will be a constantly updated part in which more modules, settings and others will be added, so each time will be more complete.