We have WhatsApp Plus 18.80.0 available , the most recent version of the instant messaging application, which will surely be the last before moving on to the 2022 editions. In this case the news is not many, but various existing bugs are fixed.
We have explained what WhatsApp Plus 2021 is, an alternative to the official app that offers us many more possibilities : greater privacy, exclusive functions and the ability to completely customize its visual appearance.
WhatsApp mods are created by external developers, so they follow their own cycle of updates. This version 18.80.0 is based on WhatsApp 2.21.19.21 from the Play Store , applying all the additional features.
The confirmed news are few: the Telegram plugin is eliminated and it is also used to fix various bugs , which we understand are of little importance, since they are not detailed individually.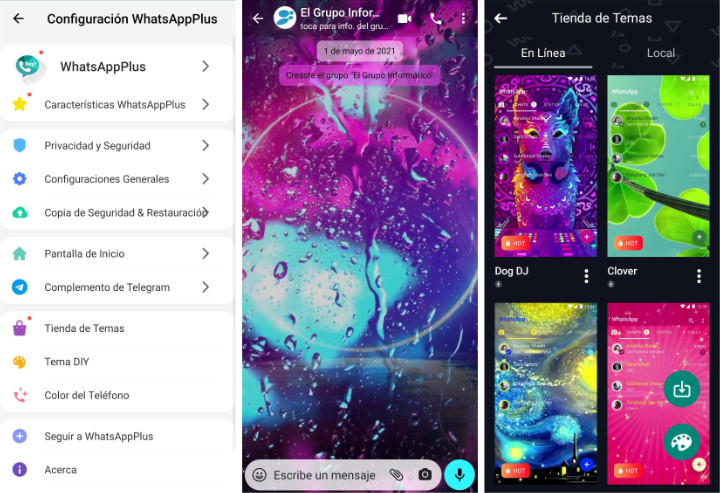 Some users claim that version 18.80.0 brings more publicity than the previous ones , a necessary counterpart to maintain development without the financial support of WhatsApp itself.
At the bottom of the article we leave the APK file with the installer of this update 18.80.0. We have explained how to update WhatsApp for current users, and those who do it for the first time can be guided by the tutorial to install apps external to Google Play on Android.
There is a small risk that WhatsApp temporarily or permanently blocks accounts that use mods, as it only supports the official client. However, in recent years it has hardly acted against unofficial versions, which also incorporate anti-ban functions to go unnoticed.
Most likely we are facing the last launch before WhatsApp Plus 2022 arrives and, although the news of version 18.80.0 is scarce, it is always good to be up to date. This project, part of the HeyMods family, is becoming increasingly important to the community.
After all, WhatsApp Plus 2021 has become the most popular alternative version in recent months, and Instagram mods have even started to become frequent for those who want to make the most of their applications.
Download WhatsApp Plus 2021 18.80.0 for Android