Some Mozilla Firefox users find that it does not load websites , a rare and serious problem. Luckily there is a possible solution for this error, which seems to be related to HTTP3, and has been discovered by the user community.
Firefox stops loading websites due to a bug that increases processor consumption to 100% , which blocks the browser, in addition to affecting the performance of the computer. An infinite loop is generated, unfortunately restarting Firefox does not work as a solution.
The failure has started with the latest Firefox update, although some sources suggest that the ultimate cause is the servers of a provider that generates this incompatibility with HTTP3. Due to its large size, they point to Cloudflare or Google Cloud Load Balancer, but it has not been confirmed.
We must follow these steps carefully , since modifying the advanced configuration of Firefox carries the risk of damaging the browser if we make a mistake. This is the procedure:
First we will write "about:config" in the address bar and press "enter":

We will click on "Accept the risk and continue" to access: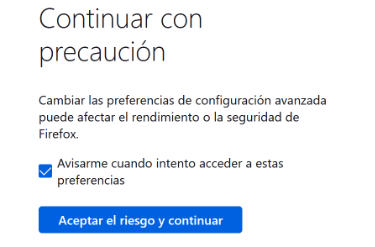 In the advanced preferences search engine we will enter this text:
network.http.http3.enabled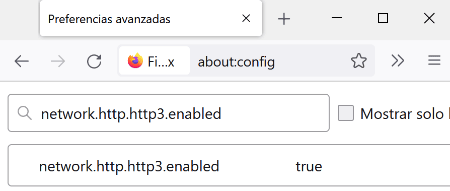 By default it appears as "true", you have to press the icon of the two arrows to set it to "false" and solve the error:

– Now it only remains to close and reopen Firefox for the changes to be applied, and the pages to reload.
It would be a good idea to enable HTTP3 again when Firefox officially fixes the bug. Right now, this type of connection is not essential, but in the long term the current HTTP2 will eventually stop working, and we will need HTTP3 in the browser.
Some users have tried disabling the telemetry features in Firefox, but the developers advise against it, and believe it won't work in most cases.
Mozilla is also working on providing a definitive solution , despite the fact that the Firefox updater itself suffers from the problems. They are going to disable HTTP3 temporarily while they work with the service causing the incident.
Therefore, if the pages do not load in Firefox we must disable HTTP3 , which is not a very orthodox solution, although it seems the only option at the moment.