Apple trolls Spotify in the war against Neil Young and does it in a very elegant way, promoting the albums and track lists of the musician who complained about misinformation about COVID-19 and pointing out that Apple Music is the singer's true home , alluding to the expulsion of the other platform.
Young's complaint was related to his disagreement that Spotify allowed Joe Rogan to use his podcast on the platform to promote uncertified information and hoaxes about the pandemic and therefore requested that the streaming service choose between one of the two.
A campaign against Spotify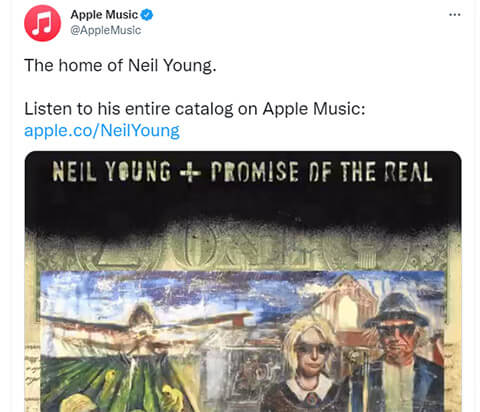 Apple music only reacted in an elegant way on its Twitter account to a trend that grew rapidly in the United States under the hashtag #cancelspotify, which has generated at least 150 messages per hour and thousands of retweets to messages posted in which they consider a bad action of the platform and they also invite massive transfers to the Apple Music service.
Neil Young posted a letter demanding they remove his music from Spotify as "They may have Rogan or Young. Not both." It seems the numbers trumped awareness, as the podcast hosted exclusively on that platform averages 11 million listeners per episode and had been a huge influence up to this point.
Spotify did not hesitate to eliminate all the music of the legendary singer and since then other platforms have not missed the opportunity to give his hits a second wind, starting with Apple Music.
In its message, Apple Music recommends playlists and push notifications to promote "The Home of Neil Young."
Via: 9to5mac